Home

Privacy Policy
Privacy Policy
Wishbowl.org has created this privacy statement in order to demonstrate our firm commitment to privacy.

With a firm commitment to the privacy of our user's personal information, Wishbowl.org want our users to always be aware of any information we collect, how we use it, and under what circumstances, if any, we disclose it.
Personal Information
The data that Wishbowl.org collects from you like username, e-mail address, and password are used to uniquely identify you as a user on our website and all necessary steps are taken to safeguard the privacy of data you input. Your contact details can also be used to notify you about new features, enhancements, resolution of site problems, your customer support questions and issues. Your e-mail address however will never be disclosed on our site or in any other form.
Information Automatically Logged
We use your IP address to help diagnose problems with our server and to administer our Web site. Your IP address is also used to gather broad demographic information. We use this information to help us design a website that is targeted to the interests of our visitors and prevent any kind of abuse of our website.
Third Party Cookies
Wishbowl.org may place a cookie, on your hard drive to provide you with a better use of the website. A "cookie" is a small file that websites often store on a user's computer. Storage of cookies on your system provides an easy and convenient method for us to personalize your experience on our websites. For example, cookies allow us to remember your screen name, tell us that you have visited our website before, and may contain information that will make your next visit to our website more enjoyable.
Third Party Advertising
Wishbwl.org works with a number of third party advertising companies who serve ads to our site. These companies may use information (not including your name, address, email address, or telephone number) about your visits to this and other websites in order to provide advertisements about goods and services of interest to you.
Changes to the privacy policy
From time to time, Wishbowl.org may make amendments to its privacy policy. Any substantial changes made to the privacy policy will be informed to you by posting a prominent announcement on our pages. All updations will als be made to this page and will be available for you to read anytime. We will update this privacy and fair information practices policy to reflect new features, services and options, as well as any other changes with regard to the use of personal information.
Questions or Suggestions
To review, modify or remove the information you have provided to us, or to contact us with any questions or complaints, please e-mail us at
webmaster@wishbowl.org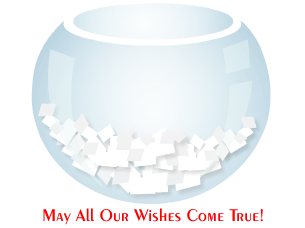 Frequently Asked Questions
About
Community
How To / Insights
Resources
Spread the Word

Wish Bowl is an Online Tool or Application where you can submit your wishes, bless your wishes along with wishes of other people and work towards achieving them. You can keep track of your wishes, create To Do Tasks, set reminders and use other informational material that would motivate you to work towards making your wishes come true. Wish Bowl is also very thankful to each and every one of the individuals who have used and blessed the Wish Bowl. May God always shower you with Good Luck, Happiness and His blessings on you. May all our Wishes come True!
Copyright 2012 WishBowl. All Rights Reserved.