Home

Terms of Use
Terms of Use
This is the official terms of aservice agreement for wishbowl.org governing the conent, features and activities related to the site. In order to make an effective use of the website, you need to comply with the terms and conditions contained in this agreement. This terms and conditions constitutes a legally binding agreement between you and the Site. the term site includes includes all websites and web pages within the Site as well as any equivalent, mirror, replacement, substitute or backup websites and web pages that are associated with the Site. This agreement however does not cover your rights or responsibilities with respect to third party content or sites or any links that may direct your browser or your connection to third party sites or pages.

By using this Site, you understand, acknowledge and agree that you will abide by the terms of this Agreement and any additional terms that govern certain products and services. If you do not agree to these terms and conditions, please do not use this site.
Use of Site
Unless otherwise stated, we or our licensors own the intellectual property rights in the website and material on the website. Subject to the licence below, all these intellectual property rights are reserved.

You may view, download for caching purposes only, and print pages from the website for your own personal use, subject to the restrictions set out below and elsewhere in these terms of use.
You must not :
Republish material from this website (including republication on another website);
Sale, rent or sub-license material from the website;
Show any material from the website in public;
Reproduce, duplicate, copy or otherwise exploit material on our website for a commercial purpose;
Edit or otherwise modify any material on the website.
ACCESS, REGISTRATION AND USE OF PASSWORD
In order to use the Site, you need the equipment necessary to connect to the World Wide Web ("WWW"), and the connection necessary to access the WWW. You are responsible for any fees associated with such connection or access (such as those charged by an Internet Service Provider (ISP) or telephone company).

In order to take advantage of some of the services and interactive features offered at the Site, you will need to register with wishbowl.org

- You agree that if you choose to register, you agree to provide true, accurate and complete information about yourself as prompted by the Site registration, provided that in connection with registration, you do not need to, and should not, use your full or true name for your username.

- In addition, you agree to update that information in order to maintain its truth, accuracy and completeness. We may deny you access to the Site or reject your order in the event that your information is untrue, inaccurate or incomplete. Unless you cannot remember your username and/or password, you may only register once for use of the Site.

- You agree that you are solely responsible and liable for all actions taken via your password, whether or not made with your knowledge or authority. You agree to guard your password carefully, with the full awareness that a failure to keep it secure will enable others to engage in transactions through the Site for which you will be legally responsible.
PRIVACY
Your privacy is important to Wishbowl.org. All information gathered from you in connection with your use of Site will be governed by the provisions of the Wishbowl.org Privacy Policy, which are incorporated into these Terms of Use by this reference.
INTELLECTUAL PROPERTY AND RIGHTS TO ACCESS SITE IN LIMITED WAY
Wishbowl.org is the exclusive owner and proprietor of the Site. The Site Content and Code are owned by Wishbowl.org and/or its licensors and are protected by applicable domestic and international copyright and other intellectual property and proprietary rights and laws, and are offered to you, as they exist on the Site, for limited use pursuant to these Terms of Use. As used herein, "Content" means any and all human readable audio and/or visual elements of this Site, including without limitation, any text, graphics, images, illustrations, photographs animation, video/audio or audiovisual works, designs or logos, information, and other content made available through the Site. "Code" means any and all underlying elements of this Site, including without limitation source code, script, object code, software, computer programs, and other sets of statements or instructions contained in or underlying the Site. You shall not copy, distribute, publish, perform, modify download, transmit, transfer, sell, or license, create derivative works from or based on, publicly display, frame, link, or in any other way exploit any of the Content or Code, in whole or in part, without the prior written permission of Wishbowl.org or the respective copyright holder. If you violate these Terms, we may terminate or cancel your access rights to the Site immediately without notice. We may also block your use of the Site. We reserve the right at any time to modify or discontinue the Site or any part thereof and you agree that we shall not be liable to you or to any third party for any modification, suspension, or discontinuance of the Site or any part thereof. This license is limited to personal and non-commercial uses by you.
LINKS, ADVERTISERS
The Site contains links to third party sites that are not under our control and we not responsible for any content on any linked site. If you access a third party site from the Site, then you do so at your own risk. All communication, interaction and participation is strictly and solely between you and such Advertisers and we shall not be responsible or liable to you in any way in connection with these activities or transactions (including, without limitation, any representations, warranties, covenants, contracts or other terms or conditions that may exist between you and the Advertiser or any goods or services you may purchase or obtain from any Advertiser).
USER CONDUCT
There are some common sense and basic etiquettes which guide the online conduct. We have zero tolerance for illegal behavior on Wishbowl.org. You must also obey rules for use of third party tools, and rules of interactive service providers, state, local, federal laws, or foreign or international law where appropriate. Ignorance of the law is no excuse.
You agree that you will be personally responsible for your use of Wishbowl.org and for all of your communication and activity in using the Service, including any content you contribute, and that you will indemnify and hold harmless wishbowl.org, its affiliates, employees, officers, and directors from any liability or damages arising from your conduct on wishbowl.org, including any Content that you contribute.
You will violate the Terms of Service if you (or others using your account) do any of the following:
Post, transmit, promote, or distribute Content that is illegal.
Harass, threaten, embarrass, or do anything else to another Member or guest that is unwanted. This means: do not say bad things about them, do not send them unwanted messages, do not attack their race, gender, sexual orientation, religion, heritage, disability, etc. If you disagree with someone, respond to the subject, not the person.
Transmit or facilitate distribution of content that is harmful, abusive, racially or ethnically offensive, vulgar, sexually explicit, defamatory, infringing, invasive of personal privacy or publicity rights, or in a reasonable person's view, objectionable which may constitute or encourage a criminal offense, violate the rights of any party or which may otherwise give rise to liability or violate any law.. Hate speech is not tolerated.
Attempt to get a password, other account information, or other private information from a Member or any other user on wishbowl.org. Remember: Wishbowl.org employees will NEVER ask for your password. Do not give your password, reminder words, or any personal information out to anyone.
Upload any software or commercial Content that you do not own or have the legal right to freely distribute or use the site to solicit others to join or become members of any other commercial online service or other organization.
Promote or encourage any illegal activity including hacking, cracking or distribution of counterfeit software. Upload files that contain a virus or corrupted data.
Post messages for any purpose other than personal communication, including without limitation advertising, promotional materials, chain letters, pyramid schemes, or make any commercial use of our Service.
FAILURE TO COMPLY WITH THESE RULES
You acknowledge and agree that wishbowl.org may suspend or terminate your membership account and/or deny you access to, use of, or submission of Your Posted Materials for, all or part of the Site, without prior notice, if you engage in any conduct that wishbowl.org believes, in its sole discretion: a) violates any term or provision of these Terms of Use, (b) violates the rights of wishbowl.org or third parties, (c) or is otherwise inappropriate for continued access and use of the Site. In addition, wishbowl.org reserves the right to terminate inactive membership accounts. You agree that upon termination, we may delete all information related to your account and may bar your access to your account and the Site.
MODIFICATIONS
Wishbowl.org reserves the right to modify these Terms, in whole or in part, at any time. Changes to these Terms will be effective when posted. Your use of the Site, shall evidence your acceptance of the changes to these Terms and shall constitute your agreement to be bound thereby. You should check back frequently and review the terms and conditions of this Agreement, so you are aware of the most current rights and obligations that apply to you and the terms and conditions of your agreement with us.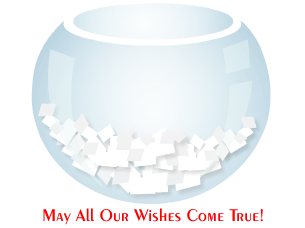 Frequently Asked Questions
About
Community
How To / Insights
Resources
Spread the Word

Wish Bowl is an Online Tool or Application where you can submit your wishes, bless your wishes along with wishes of other people and work towards achieving them. You can keep track of your wishes, create To Do Tasks, set reminders and use other informational material that would motivate you to work towards making your wishes come true. Wish Bowl is also very thankful to each and every one of the individuals who have used and blessed the Wish Bowl. May God always shower you with Good Luck, Happiness and His blessings on you. May all our Wishes come True!
Copyright 2012 WishBowl. All Rights Reserved.